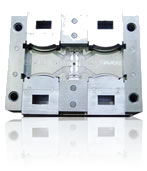 We are a manufacturer of plastic injection molds for custom molders and original equipment manufacturers. Customers repeatedly ask us to develop complex molds up to 24 inches x 35 inches. Our customers receive complete service, including both design and fabrication of our exceptional molds.
We also stand behind our products and will be there with support for any issues that may arise after mold completion.
Our injection molds range from single cavity unitized molds to multiple cavity full frame molds with complex surfaces, irregular parting lines, multiple actions and hot manifolds.
Let us show you how Blue Chip Mold Inc. can be the solution to your plastic injection mold requirements.

Substantial in size, well equipped, and staffed by professionals, our goal is to provide customers with a highly qualified plastic injection mold design
partner.
10,000 square feet free standing, air conditioned building on 1-acre M-1 industrial land. 800 amps power available at 230 volts.
Constant inspection during mold development is the key to consistent
high quality while keeping a competitive price.
Our molds produce parts for industries including computer and business equipment, automotive, electronic, consumer products, industrial
products, and medical.